As we all know, there is no better feeling than slipping on your Muck Boots for the day and accomplishing your goals of the day. Our boots have been tested and have demonstrated that they can conquer the toughest conditions across the globe. Typically, you know the type of boots that you will need for the tasks you encounter and will scan through a multitude of options. However, there is not much consideration into the socks one decides to wear with the boots. Within our wigwam collection, we offer a few different options in socks. Each pair are unique and function in distinct ways.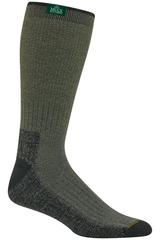 How are they made?
All socks in the Wigwam collection are made with merino wool. Merino wool is favorable to use because if you're making a synthetic fiber, you can change your chemical processes to get different performance qualities for cooling and warming! How is that even possible, you may ask. It is done by having sheep graze at different altitudes, then the sheep will grow different dimension hair. For instance, if you want a heavy-duty winter wool sock, then you'll want to gather it from sheep who have been grazing at a higher altitude. When it comes to a spring or summer sock, the lower the altitude the better.
When you think of wool, you probably think about that old scratchy sweater that your parents made you wear for the holidays. But there is good news here and that is our socks do not have that same uncomfortable feeling. Why is that? When the sock is being created, we take the merino wool fiber when it's still fresh and power wash it before spinning into yarn. By power washing it, you blast off almost 100% of the barbules that make wool scratchy. This achieves a comfortable wool that can be worn close to skin without being itchy and it will last longer.
Why is this wool beneficial?
For starters, We can get different kinds for various end uses depending on the season of choice, Power washing method allows for it to never be scratchy and be comfortable on skin for high performance, Has natural moisture wicking properties.
What does the natural moisture wicking properties achieve?
As previously stated, merino wool has natural moisture wicking properties. With our wigwam socks, we combine wool with other fibers that are more hydrophobic and hydrophilic. Hydrophobic fibers don't like water and hydrophilic fibers do like water. This interaction allows for moisture to be pulled through the sock. Once pulled through the sock, the moisture will be released to the air mesh linings of our boot. By using the right sock with great linings, you are creating an environment where moisture and the heat that comes with it can escape from the boot.
How do I figure out the right pair of socks to go with my boots?
Much like we try to find the right linings for our boots, there are pairs of socks that can complement the choice. The big question is how much air is to be captured and how much air is to be released? For instance, in our fleece lining boots, the goal of the design is to get the moisture out. The choice should be made depending on the best way of maximizing the wearing occasion.
You can customize the choice based on what you plan to be doing in the boots. If you know you're going to be active and moving around a lot in our winter boots with fleece lining, then you will want to use a lightweight sock. We would recommend using our Professional Boot or Unisex Authentic Rubber Boot Socks if you will be on the move during the winter. It contains breathable vent channels and keeps moisture away from the bottom of your foot. This will allow the moisture to be pulled away and released faster to keep feet dry. Similarly, you could use heavy-duty winter socks with a typical spring or summer boot that is light duty. The recommended socks in this setting would be the Trek Fusion Boot or Northwest Territory socks. The trek fusion is the first and only sock with a knit-in lining that moves the moisture from inside the sock to the outside for evaporation. While the northwest territory is the warmest sock we carry and provides ultimate protection against all elements. Both are specifically designed to keep feet warm and turns a lightweight boot into a functional winter boot.
Overall, you can dial in the performance that you will need based on how active you are, jobs being performed, location or if you have a preferred style that you wear year-round. We supply various pairs of socks that can be worn in different scenarios upon your preference. Using the right boots with the right socks will give you the best experience in the outdoors.
Related Categories
• Wigwam Made in the USA Socks
• Winter & Snow Boots

Popular Products