People like you play an important roll in our Muck Boot community. You put our footwear to the test on the field and your feedback is essential as it helps us get better in providing you the best experience in our product and service. In today's post, learn more about the Apex Pro and Muck Originals along with the special people that helped share their stories.
Please continue to share your experience with us at muckcustomersupport@rockybrands.com or write a review on our website about your personal Muck Boot styles. If you are posting on social media, follow us @muckbootco and don't forget to tag your photos with #MUCKBOOTS for the chance to be featured on our feed
ROB'S REVIEW
Men's Apex Pro in Mossy Oak® Country DNA™ featuring the Vibram® Arctic Grip All-Terrain Outsole APMTMDNA
I have been wearing Muck Boot for just over eight years now. I remember my first pair and they are still in great shape but I wanted something a little warmer for those cold days of deer hunting, ice fishing or dog training; so I went back to my trusted Muck Boot Brand and looked online. If you are like me and dislike online shopping, because you hate scrolling through hundreds of items, then you will love the easy-to-use website. Muck Boot's website allows you to filter not only by size and by colour but also by thermal rating, and style. Which was perfect for me. I found the exact pair I wanted within five minutes and to be honest I spent longer deciding between the camo patterns than I did picking out the style of the boot!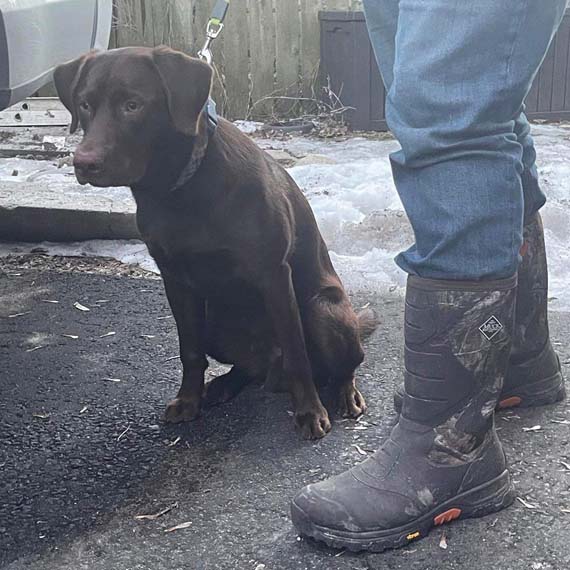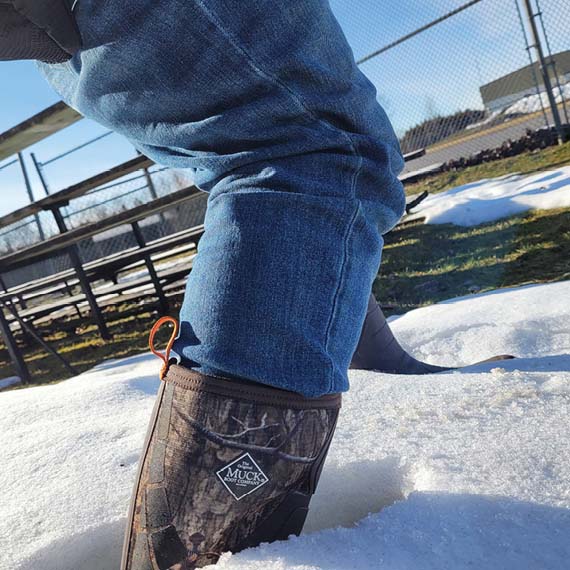 When the boots arrived they were in pristine condition in a very well-built cardboard box with cardboard inserts to ensure they maintained their shape while travelling. The boots slipped on perfectly and I was very excited to go for a walk in them so that is exactly what I did. I hiked a few kilometres with my chocolate lab euchre and although I expected blisters from hiking that far in a brand-new pair of boots they were minor. Proper socks helped with that. Also, following a seven-month-old chocolate lab puppy means I put them to the test; through puddles, on and off the marked trail, hopping over some downed woody debris etc. They stood up to everything and my feet were warm and bone dry; which to me is one of the most important things when you are outdoors. If your feet are cold and miserable so are the rest of you Muck Boot just simply prevents that from happening.
The only thing that I wish Muck Boot had included with the boots were some care instructions, how do I make sure that I am taking the best care of this incredible product so this pair lasts me 15 or 20 years and also what is the best way to break them in so I avoid blisters with my next pair.
Helpful link below from our service team on how to care for your Muck Boots:
HILARY'S REVIEW
Women's Muck Originals Ankle Boot OAW901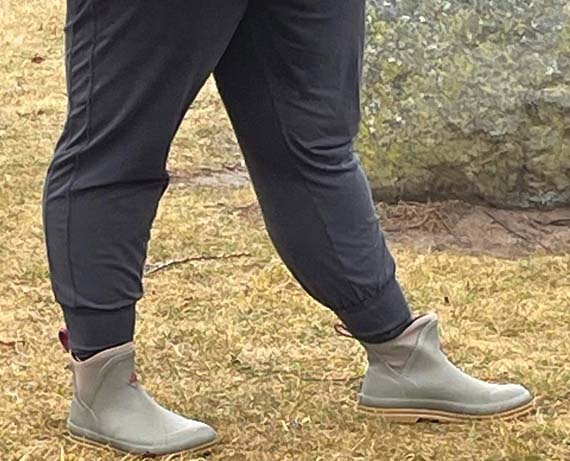 This was my first pair of Muck Boots, my husband has a pair, my father has a pair, and a lot of the guys they go hunting with also wear Muck Boots so for years I just assumed they only made hunting boots/work boots that were of a high cut. My husband mentioned to me that they were having a sale, when ordering his newest pair and wondered if I would want a pair as well ... I know he just wanted to split on the shipping but I humoured him and took a look at the website. I was shocked! I had no idea that Muck Boot offered so many different styles and that they could be so versatile and cute! I ordered the OAW901 pair and I love them. They have become my go-to pair of boots for running errands around town. I also love them at work; I have never had a pair of stylish boots that kept my feet so warm while on recess duty as a teacher. I told all of my coworkers about them and how my feet stayed warm and dry on the playground while supervising the children at school. This may have been my first pair but it won't be my last. 10/10 would recommend that you consider the Muck Boot Company when purchasing your next pair of boots.
Related Categories
• Sport and Hunting Boot Guide
• Men's Hunting Boots
• Women's Hunting Boots

Popular Products
• Apex Collection
• Woody Collection
• Muck Originals Collection